P-EBT Plan Information
The Children Under 6 and Summer 2022 P-EBT programs will be available as follows:
P-EBT Children Under 6 program: Qualifying children under age 6 who live in a household that receives Basic Food benefits (the federal Supplemental Nutrition Assistance Program or Washington state's Food Assistance Program) may receive $43 for each month they received Basic Food assistance from September 2021 – June 2022.
Summer 2022 P-EBT program: Qualifying children under age 6 as well as school-aged children will receive a one-time lump sum of $391 per child to cover the summer period through July and August 2022. School-aged children enrolled in Washington state schools that operate the NSLP who are eligible for free or reduced-price school meals are eligible for Summer 2022 P-EBT benefits. Children under 6 will receive benefits under this plan as long as they receive Basic Food assistance during July and August.
These benefits are separate from a P-EBT 2021-2022 School Year program, which has not been approved by USDA at this time.

To ensure children who may be newly eligible receive P-EBT benefits, schools should encourage families to complete the free and reduced-price meal program application by August 31, 2022. Families should contact their district for meal application information.
P-EBT Contact Center
For full details and additional questions about P-EBT benefits, families can visit dshs.wa.gov/PEBT or call the P-EBT Contact Center at 833-518-0282 between 8 am and 5 pm PT, Monday-Friday (except observed holidays).

---
Información del plan P-EBT
Los programas Children Under 6 y Summer 2022 P-EBT estarán disponibles de la siguiente manera:
Programa P-EBT para niños menores de 6 años: los niños menores de 6 años que califican y que viven en un hogar que recibe beneficios de Alimentos Básicos (el Programa federal de Asistencia Nutricional Suplementaria o el Programa de Asistencia Alimentaria del estado de Washington) pueden recibir $43 por cada mes que recibieron asistencia de Alimentos Básicos desde septiembre 2021 – junio 2022.
Programa P-EBT de verano de 2022: los niños menores de 6 años que califiquen, así como los niños en edad escolar, recibirán una suma global única de $391 por niño para cubrir el período de verano hasta julio y agosto de 2022. Niños en edad escolar matriculados en el estado de Washington las escuelas que operan el NSLP que son elegibles para comidas escolares gratuitas o de precio reducido son elegibles para los beneficios de P-EBT del verano de 2022. Los niños menores de 6 años recibirán beneficios bajo este plan siempre que reciban asistencia de Alimentos Básicos durante julio y agosto.
Estos beneficios son independientes de un programa P-EBT para el año escolar 2021-2022, que no ha sido aprobado por el USDA en este momento.
Para garantizar que los niños que pueden ser elegibles recientemente reciban los beneficios de P-EBT, las escuelas deben alentar a las familias a completar la solicitud del programa de comidas gratuitas y de precio reducido antes del 31 de agosto de 2022. Las familias deben comunicarse con su distrito para obtener información sobre la solicitud de comidas.
Centro de contacto P-EBT
Para obtener detalles completos y preguntas adicionales sobre los beneficios de P-EBT, las familias pueden visitar dshs.wa.gov/PEBT o llamar al Centro de contacto de P-EBT al 833-518-0282 entre las 8 a. m. y las 5 p. m. PT, de lunes a viernes (excepto Días festivos).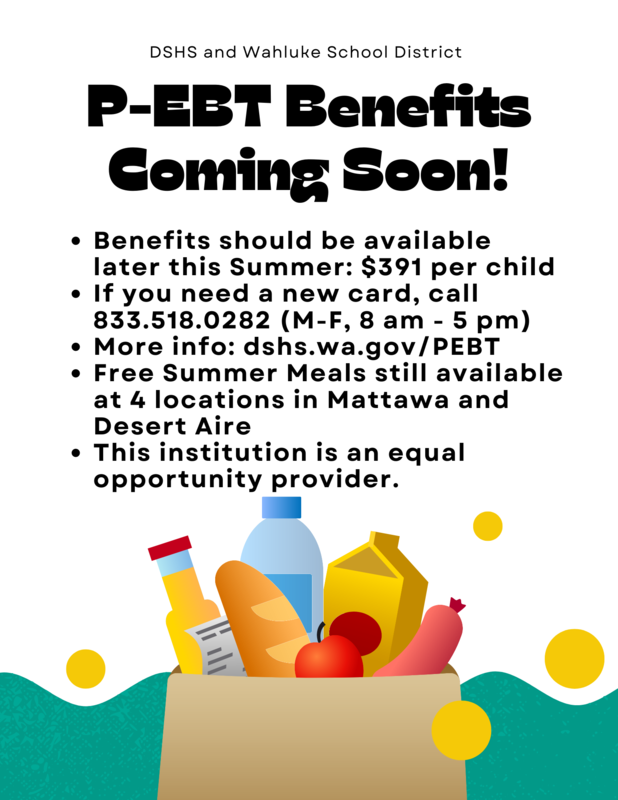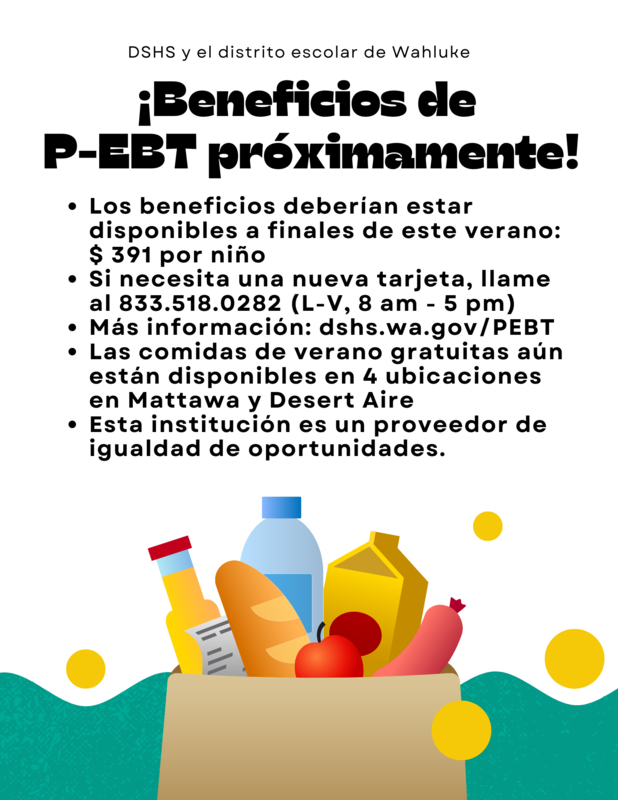 ---